(Yes, I know it's a webcomic, but it is available in book form thanks to a successful crowdfunding campaign by the author! You can also read the whole thing on the Internet, of course, but for the sake of easy archiving, I'll just tag it under 'books.' Capische?)
Holy shit this comic is beautiful.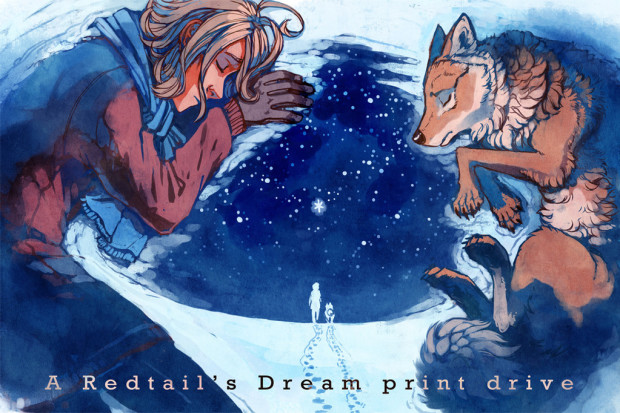 (All art © Minna Sundberg – http://www.minnasundberg.fi)
Hnnngh. I just love this art style. It feels organic, it's lively, it's muted, and it has an absolutely fantastic sense of colour theory. Everything just goes so beautifully together — I can't imagine how long every single panel must have taken, considering how detailed they are.  (Just checked on the site – between 8-10 hours. Wow.)
The nearest comparison I can think of is Ava's Demon, another webcomic with gorgeous, detailed art, and a similarly gripping story. But honestly, I think I prefer A Redtail's Dream for its story.
The story is based on Finnish mythology, and concerns two main characters — Hannu and Ville. (Hannu's the human in the above pictures, Ville's the dog.) As the story begins, they're living in a secluded, forested village. Hannu is rather lazy and feckless, and Ville is, as Sundberg's site describes him, 'the best doggy in the whole wide world.'
Then, suddenly, their whole world changes around them. Thanks to a young, idiotic deity named Puppyfox, who accidentally traps the entire village in a dream-like state, where Hannu and Ville (who keeps on shape-shifting… just go with it) must search through the landscape for a way to get everything back to normal. Since, according to Puppyfox, it's only a matter of time before nobody will ever be able to wake up again.
I'm going to keep this sweet and spoiler free, and not try to gush too much, but oh my god you guys. Read this. I can't even put into words how much I loved this comic — and I'm very eagerly catching up with Stand Still. Stay Silent. right now. A Redtail's Dream is about 550 pages long online – here are the links in both English and Finnish – and the IndieGogo-funded hardback is about six hundred pages long. But still. It's an amazing read, and I finished it in about two days. I just couldn't stop reading. (Also, to use Tumblr vernacular, it will give you the feels. So many of them. Can I please adopt Ville? Please?)
Just go read it. You'll be glad you did. :D
5/5.