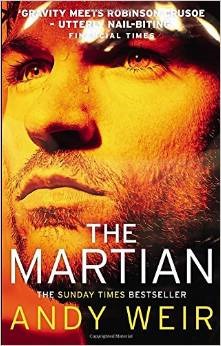 I'm stranded on Mars.
I have no way to communicate with Earth.
I'm in a Habitat designed to last 31 days.
If the Oxygenator breaks down, I'll suffocate. If the Water Reclaimer breaks down, I'll die of thirst. If the Hab breaches, I'll just kind of explode. If none of those things happen, I'll eventually run out of food and starve to death.
So yeah. I'm screwed.
Amazon UK
| Amazon US | GoodReads | Book Depository
No, I haven't seen the film – yet. Seriously hoping to soon, though!
So, I'm a super latecomer to this one. I heard of the book way back in 2013 when it hadn't yet been courted by traditional publishing and Hollywood producers foaming at the bit to replicate the next great sci-fi movie, following the immense success of Alfonso Cuaron's Gravity and Christopher Nolan's Interstellar. I mean, how amazing is it that we live in a world where somebody can simply put something up on Amazon's Kindle Direct Publishing program and then have not just huge publishers, but  Ridley Scott knocking at their door?
Mark Watney is an astronaut who's having a pretty terrible day at his job. He's been separated from his crew on Mars following a massive storm that resulted in a full-scale evacuation. The crew assume that Watney died during the storm, when he is in fact, alive. And terribly stranded. He has absolutely every reason to freak out, but doesn't — he builds up his lab, fixes the damage to the best of his ability, and just settles into life on Mars (wonder if he'll ever know / He's in the best-selling show) as he tries to establish communications back on Earth.
Hopefully you'll forgive me if I say that quite a bit of the more technical, scientific stuff went over my head. What I did understand, I was fascinated by, but there were definitely parts that I had to skim through. I loved how resourceful Mark was — using his degree in botany to make sure he has enough food to last (although you do feel sorry for the guy, nothing but potatoes for weeks on end), and not just accepting his destiny was to die alone on another planet from dehydration or starving or running out of air to breathe.
Weir's writing style is incredibly immersive. You'll feel everything from Mark's frustration when things don't go according to plan, to his joy when eventually things do go right…  Also, the story is split into two points of view — well, Mark's first-person POV, and this omniscient narrator that details everything that's being done at NASA and in the media to check in with the mission and try and get Mark back home.
I… kind of like the omniscient narrator better. Nothing wrong with Mark, but there were definitely times where I found him to be a bit grating. Sure, you've had your time to freak out (and Mark occasionally does get very frustrated since Sod's law is apparently doubled on Mars), but the way Mark talks sometimes, it's like whatever's just happened to him is a minor setback, he's so casual you can't help but go: "Dude, this isn't like you're on holiday in Spain and you lost your hotel key. You're on Mars."
Otherwise, it's a cracking read. I read part of the book at work, then part of it in an airline waiting lounge, and then another part of it on a flight… and yeah, it just sped by. The climax is absolutely nail-biting.
Final verdict: 4 stars